Description:
This is the standardized course that gives sailors a complete hands-on instruction and training for sailing a small keelboat (20-25′).  A "keelboat" is a sailboat which has a permanent, fixed, heavy keel.  Upon completion, the sailor should have a good, working understanding of the sailboat, how to operate it, and have initial experience at all of the basic procedures.
Why take this course:
To be a competent sailor, and more!  The activity and sport of sailing provides an enormous variety of experiences on the water.  There is a great spectrum between casual sailing to performance racing to weekend cruising to long-distance open-ocean cruising.  Weather varies greatly in many ways.  Navigation among geographic and other boating traffic can present great challenges.  The experiences can be beautiful, exhilarating, adventurous, and they can be terrifying.  It is of the utmost importance to maintain safety and to operate the sailing vessel with competence and knowledge.  Organized, formal education is the very best way for sailors to achieve the knowledge and skills necessary to be competent and safe.  Finally, those who understand their experience and have the skills needed, very much enjoy the experience the most!
Why take this course from Captain Dan:
Other sailing schools teach sailing skills on a rapid schedule, and students often experience an overwhelming push to get their facts and skills ready for a test.  In Captain Dan's view, the opportunity to learn to sail is to come into a partnership and command with a living creature, the sailboat.  The experience of sailing is organic and natural.  And the learning brings one into a new level of appreciation of nature, a new level of competence and self-esteem, and into the community and camaraderie of like-minded adventurers.  Dan desires that every student feel fully prepared, with knowledge and skills, competent, happy and ready to take on new opportunities of adventure and life.
Prerequisites: None
Who is this course designed for:
1. Those with some sailing experience and want to get a solid understanding and hands-on experience with a sailboat.
2. Experienced crew who want to establish full understanding of what's going on around them on the race boat.
3. Sailors and skippers who want to fill in the gaps of their knowledge and skills. This course is perfect to helps identify the blind spots of knowledge that occurs naturally when learning how to sail casually.
4. Youth who are ready to begin their mastery of sailing and skippering, and enter a sport of fun and adventure.
The Course Includes:
1. Course text book, "US Sailing Basic Keelboat"
2. In-Classroom training: approx. 10 hours (five 2-hour sessions)
3. On-The-Boat training: approx. 21 hours (seven 3-hour sessions)
Tuition:
$1397.00
Guarantee:
100% money back guarantee if not satisfied with your experience.
Absence Make-Up Policy:
If you are unable to attend any part of the course, you may make arrangements for make-up learning, such as offline lessons or attending the applicable segment of the next session.
Cancellation Policy:
100% money back if cancel within 5 days of the beginning of the session.
Course Schedule:
Classroom Sessions: Five 2-hour sessions to occur on evenings during the third, fourth, and fifth weeks of March.  Actual dates to be determined. 
On-The-Boat Sessions: Seven 3-hour sessions to occur during late afternoons or weekend days during the first half of April.  Actual dates to be determined, based on consensus of students' availability and weather conditions.
Course Outline/Syllabus:
1. Sailing Concepts
– Understanding the boat, parts, functions, rig
– Understanding Sails, how they work, how to operate
– Sail Trim: Basic understanding of sail shape
– Basic sailing directions: Upwind, Downwind, Points of Sail
– Changing direction: Heading up, heading down
– Turning: Tacking, Jibing
– Sailing Vocabulary
2. Preparing to Sail
– How to dress for the weather, warm, cold, windy, wet
– Understanding the Wind
– Sails: Further understanding, parts, functions
– Sails: Lines (ropes) connecting to sails
– Sails: Hoisting and lowering
– Sails: Controlling the sails when under way
– Knots: Introduction
3. On the boat
– Leaving the dock
– Crew positions
– How to steer the boat
– Sailing: starting and stopping
– Jib and Mainsail trim
– Turning: Tacking
– Turning: Jibing
– Stopping the boat: Heaving to
– Returning to the dock
– Tying up to the dock
4. Further Sailing Skills
– Adjusting sail shape
– Depowering the sails
– Sail Balance
– Tacking angles
– Jibing angles
– Wind shifts
– Sailing upwind and wind shifts
– Leaving and returning, more situations
– Knots and lines
– Line handling, coiling
– Line handling, heaving
– VHF Radio
5. The Sailing Environment
– Weather
– Onshore and Offshore Winds
– Tides and Currents
– Basic Navigation Rules: Right of Way
– Nautical Charts
6. Safety and Emergencies
– Hypothermia & Heat Emergencies
– Motion/Seasickness
– Electrical Hazards
– Physical Fitness
– Overboard Rescue Methods
– Shortening/Reducing Sail
– Running Aground
– Anchoring Concepts
– Safety Equipment
– Signaling for Help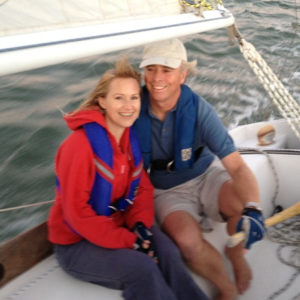 Dan Carnahan was introduced to sailing on his uncle's race yacht in Long Beach in the 1960s, and he has been sailing ever since. Dan completed nearly the full course catalog at Club Nautique Sailing School, Alameda, in the 1980s-1990s. For three years in the 1990s, Dan organized and skippered weekly sailing trips out of Alameda and Benicia. In the early 2000s, for another three years, Dan served as crew, foredeck, in the Benicia Thursday night races. Dan started racing his own boat, a Santana 22, starting in 2013. Dan took over the management of the races, as Race Chair, in 2017 and is still serving that that position. In 2018-2019, Dan earned his USCG captain's license, and during 2019 he was employed as a professional captain for a pleasure cruising charting company in Alameda.
Dan's experience in leadership, teaching and coaching began during high school years, serving as a YMCA camp counselor, then as Assistant Scoutmaster for his Boy Scout Troop. He was employed by his church, serving as Youth Counselor during college years. In Benicia, Dan has served as head of the Men's Ministry at his church, and he served professionally as Youth Pastor. Dan has served as an adult volunteer with Benicia's Boy Scout Troop 8 since 2000 and continues still. He served several years as Scoutmaster, and several more years as Committee Chair. Today, through his professional coaching business, Dan helps entrepreneurs and business owners in a coaching/accountability capacity to achieve their business goals.
Dan helps those who are learning to feel supported and understood. He is calm and patient. His students feel comfortable and safe, not only physically, but emotionally as well. Dan knows that everyone begins their learning from the beginning, as he did. And Dan's love for being on the water and with others provides for a very happy experience for everyone.
Benicia, San Francisco Bay
Many people love the picturesque setting that surrounds the bustling little town of Benicia. It lies on the Carquinez Strait of the San Francisco Bay Area, has an active boating community and yacht club. Seeing the sailboats out on the glistening water gives many the inspiration and desire to be a part of the sailing activity. But, until now, there has been no organized method for people to become involved. Dan has a heart to help create the way to bring people to the water and to the boats. Dan is now in the perfect position, as Race Chair, and as an experienced teacher and coach, a sailboat owner, and licensed captain, to make it a reality. Captain Dan's mission is to provide the pathway for anyone to gain access to the exciting world of sailing.
Captain Dan School of Sailing
Dan Carnahan: dan@captaindan.com, 707-319-5706
https://www.captaindan.com/
Mailing Address: PO Box 1074, Benicia CA 94510
Classroom: 701 Southampton Rd, Suite 101, Benicia CA 94510
Boat: Benicia Marina, F Dock, Santana 22 "Sail la Vie"